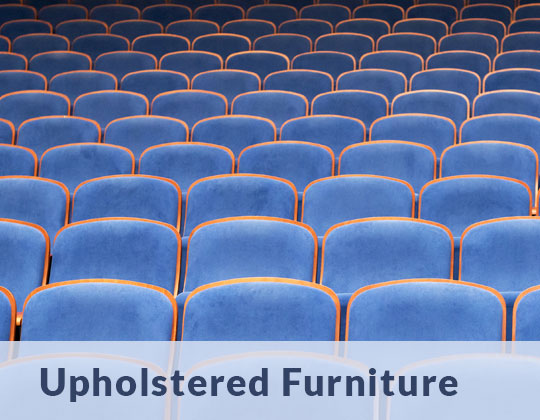 Cleaning upholstered furniture is more important than you may think. Office chairs, ballroom seating, upholstered theater seats, and restaurant booths are high-traffic pieces of furniture which rarely get more upkeep than the occasional vacuum or spot cleaning. The result? A buildup of deep stains, pollen and dust, airborne chemicals, and the sneezing and discomfort that come with it.
If it's been a year or two (or more!), it's time for a professional cleaning. While harsh chemical cleaners can result in unwanted fading, discoloration, and shrinking or stretching, our cleaning service ensures deep cleaning that's gentle enough to not damage fabrics. We work in your space, according to your schedule and budget. Our Premier Drapery Cleaning process removes allergens and bacteria, refreshing your furniture so it provides your customers with the best impression of your business and improves their customer experience. Dust and dirt are inevitable, but special upholstery protectants create a barrier to protect your furniture and increase its longevity.

About The Blind Butler, Inc.
For the past 20 years, Stephen McKee, founder of The Blind Butler, Inc., has been making the world a brighter, cleaner place. Yes, he and his team have been spent the past two decades cleaning window coverings, stage curtains, upholstered furniture and more up and down the east coast, but it is Steve's sunny disposition and genuine commitment to his customers that truly brighten every venue he serves. Janeen McKee, Stephen's wife and business partner, brings that same level of service to the administrative side of the business.
Although based in Wilmington, NC, Steve's office is as mobile as his cleaning operation. When he's not on the work site you'll find him returning phone calls on his blue tooth while traveling to the next job. Butlers are renowned for problem solving and multitasking while making it all look effortless, and Steve is no exception to the rule.
When they're not working, Stephen and Janeen devote their energy to family time, whether it's hosting family gatherings, traveling with their daughter (20) and son (16) or playing with their dogs. The couple also enjoy volunteering at church and for their son's marching band booster club, participating in classic car shows, and rooting for the Carolina Panthers.