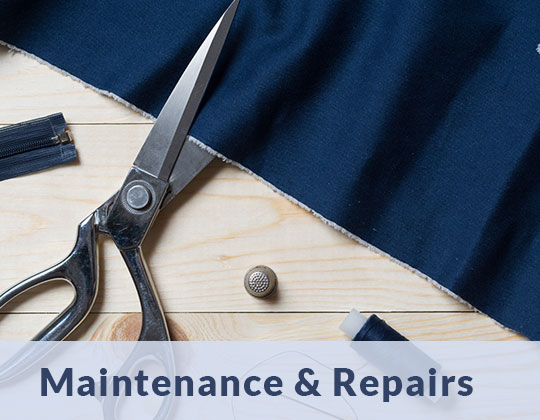 Maintenance repairs for stains, rips, and tears are sometimes needed on any piece of frequently used stage drapery, window covering, or upholstered furniture.
Further damage can occur if you take the do-it-yourself route – trying to remove a large installment on your own, or sending it off to someone who is not well-acquainted with the handling these unique fabrics require can end in disaster. Chemical stains, fading, stretching, and shrinking from spot cleaning or even hand-washing can turn a small issue into a much larger, expensive problem.
If you need to repair torn hems and seams, or replace missing or damaged accessories like hooks, ties, grommets, and chains, please let us know. At this time, we do not handle on-site maintenance and repairs, but we will gladly provide referrals or recommendations to the reputable professionals we've worked with for years.

About The Blind Butler, Inc.
For the past 20 years, Stephen McKee, founder of The Blind Butler, Inc., has been making the world a brighter, cleaner place. Yes, he and his team have been spent the past two decades cleaning window coverings, stage curtains, upholstered furniture and more up and down the east coast, but it is Steve's sunny disposition and genuine commitment to his customers that truly brighten every venue he serves. Janeen McKee, Stephen's wife and business partner, brings that same level of service to the administrative side of the business.
Although based in Wilmington, NC, Steve's office is as mobile as his cleaning operation. When he's not on the work site you'll find him returning phone calls on his blue tooth while traveling to the next job. Butlers are renowned for problem solving and multitasking while making it all look effortless, and Steve is no exception to the rule.
When they're not working, Stephen and Janeen devote their energy to family time, whether it's hosting family gatherings, traveling with their daughter (20) and son (16) or playing with their dogs. The couple also enjoy volunteering at church and for their son's marching band booster club, participating in classic car shows, and rooting for the Carolina Panthers.