Premier Drapery Cleaning, a division of The Blind Butler, Inc., provides professional drapery and window treatment cleaning for commercial and residential spaces alike. We work up and down the east coast with event venues, stage companies, public offices and schools, restaurants and businesses, insurance adjusters, remediation companies, individual homeowners, and more. Premier Drapery Cleaning regularly works in North Carolina, South Carolina, Virginia, Washington, DC, Maryland, Mississippi, Alabama, Georgia, and Florida.
Our clients include: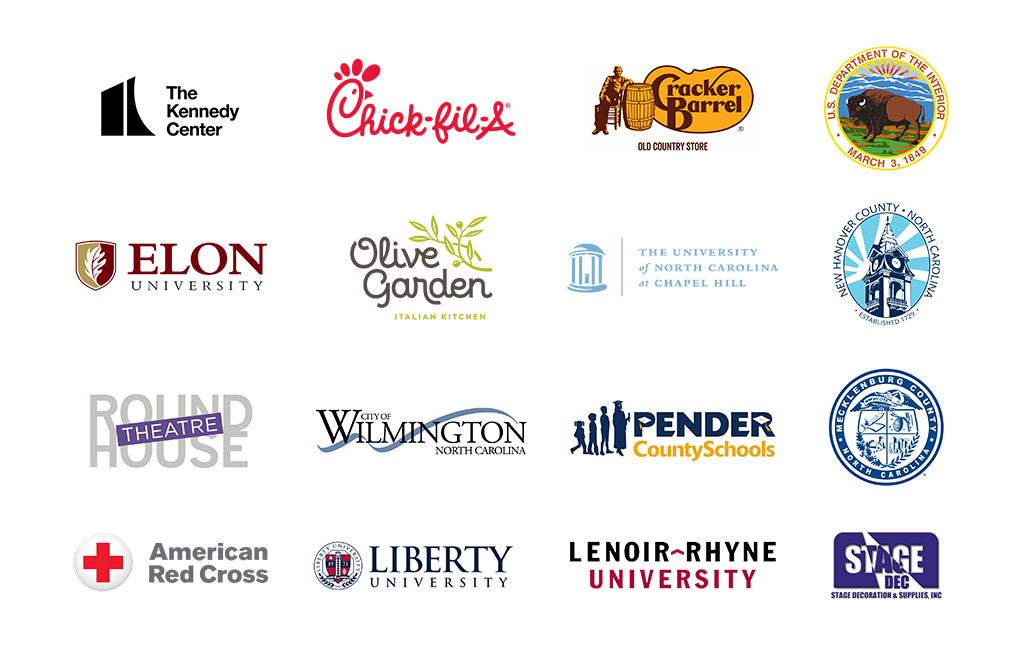 Our list of clients includes many well-known companies like the ones shown above. We service theaters, performing arts centers and event spaces; restaurants and banquet halls; county, city and government offices; hotels and convention centers; hospitals and healthcare facilities; private, public, and charter schools; colleges and universities; clubs and organizations; independent and assisted living communities; and private residences.
Here is a sampling of praise from our happy customers:
"They're prompt, professional, and they do excellent work." — William S., Homeowner
---
"As America's Premiere Stage Drapery and Curtain Manufacturer, our clients often ask us to refer them to companies that can clean and maintain the stage draperies we sold them in the past. When we get such requests, we give our customers a short list of providers with the caveat: 'If you use any of the vendors on this list, please let us know about your experience with them since we don't have firsthand knowledge of their services.' The only company we have ever received feedback on (all of it positive!) has been The Blind Butler, Inc. When a customer is so pleased they feel compelled to call me back and thank me for a referral, it speaks volumes. Steve McKee and his team are clearly a reputable operation providing great services to our customers."
— Vice-President, Stage Decoration & Supplies, Inc.
---
"My original blinds of 22 years needed a good cleaning. Steve quoted me a price right over the phone and scheduled the cleaning for the following week. He and his assistants were friendly and professional, getting the job done quickly, quietly and efficiently. The blinds look fantastic! I'll definitely use The Blind Butler again." — Cleta A.
---
"Steve McKee is a super guy, one of the nicest people I've ever met. And, his upholstery cleaning service is equally impressive. His team visits our busy location twice a year to clean and fire retard booth backs and curtains; it makes a huge difference in the feel and appearance of our restaurant. We've been clients for years because he always goes above and beyond." — General Manager, Olive Garden, Wilmington, NC
---
"They arrived on time and did a great job; my blinds are squeaky clean and look great. I'm very pleased — I highly recommend The Blind Butler and I will use them again." — Betty B., Homeowner
---
"I've worked in the theater for a long time, and The Blind Butler's Premier Drapery Cleaning is the best system I've encountered. Often, theaters have to take down stage curtains, ship them across the country, wait for 2-3 weeks for the drapes to get shipped back before they can be rehung. This shut downs the theater for a long period of time. It works out so much better to have prompt, friendly, onsite service from a company like The Blind Butler. I've worked with Steve and his team for years, and will continue to use him whenever I can." — Founder, Artsii